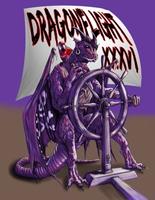 Sophie and I went to Dragonflight in Seattle, a convention that we have a long history with, and for which Sophie still volunteers (she does the program!).  We had a great time!  I'll be making several posts on the games we played in and ran.
Friday:  Motobushido – Sword and Static
I ran this game of Motobushido, and had a big crowd of 6 players.  The plot was based on my previous Sword and Static game, with trouble finding the pack as they rode the icy mountain roads to the shrine of their founder, Kawasaki Sensei.  I changed a lot of the details, however, so that Sophie could participate again without knowing the plot.
In this case there were lots of individual plotlines going around (I made sure that everyone got asked a question about the locale so that everyone had some sort of tie in to scenario).  One character had to murder someone in town, one had brought gifts for the children of the orphanage, one had a secret treasure buried in the area, etc.  That made for lots of fun, particularly when the Taicho's wizened mother-in-law became a faction!
My main plotline involved the nefarious War Pigs, who had come out the worst in the previous summer's conflicts, plotting to corrupt the spirit of Kawasaki Sensei and unleashing it on the Fool's Glory pack.
I also ran the First Founding for the first time and asked questions about the war – I had taken a 6-hour slot to make sure I had time for this.  Running the First Founding was interesting.  For a little while the players struggled with the pregen characters, but they eventually found their feet and had a lively argument that wound up with the Sapper setting off all his explosives and Sarge pushing him down a hill.
The game was lots of fun, with the characters eventually building a "Doofcycle" out of several captured motorcycles, and going head-to-head in a simultaneous battle with the War Pigs, local gun runners, and the corrupted spirit of Kawasaki Sensei.
Overall everyone seemed to have a good time.
Postmortem:  6 seems like one too many for Motobushido.  Between all the various hands that players had, the player deck always seemed to be nearly empty.  Both of the player jokers were out and active almost immediately.  Because duels take awhile, it was sometimes difficult to make sure that all the players had enough screen time.
I think in the future I will make sure to add in the second and cohort rules in the first founding (and modify some of the characters accordingly) because they don't take that much longer to explain, and I would rather not get bogged down with additional rules explanations during the first "real" duel of the game.  It saps energy and momentum.