When I woke up, I was pretty sure I was dead.  After all the energy of all the games in the last two days, and after not getting to sleep until something like 3:00 am, all I really wanted to do was just snuggle back under the covers and go back to sleep, preferably with a nice, warm wife.
But the nice, warm wife had a Firefly game to run, so I staggered and crashed around the room, managed to make coffee, managed to get something to eat, and once again toddled off – this time bleary and barely sentient – to go to another game.
SUNDAY MORNING – Firefly
I was crashing Sophie's game again, so again I sat politely and waited for other players to make their choices before I made mine, though I was secretly hoping to play Mal (to the point that I seriously considered giving my my scruples and calling dibs).  Sometimes virtue can in fact be rewarded, because when the others had chosen, there was Mal, still on the table, just looking up at me all manly and Captainy!
I confess I had some misgivings about the Cortex system.  The original "Serenity" put out by Margaret Weiss Productions had been a dim and dismal affair IMHO, and though I had liked Marvel Superheroes I had also found it a tough game to understand.  Grabbing Mal was therefor something of an act of faith – I knew that if I was playing Mal I was going to be in a leadership role, and that was going to put some requirements on me to care for the ship and crew.  One of the things I noticed right off on the character sheet was that one of Mal's big abilities was to give another character an extra d10 if that character was following his orders by spending a Plot Point.  "Aha!" I thought to myself and suddenly knew my role in the game.
I was going to be the party cleric, making other people look good by boosting their dice pools.  This was quite successful and really funny too!
E
arly on in the game, Kaylee accidentally managed to jam her parasol point-first into the shoulder of a thug.  From then on when Kaylee got into combat I always tried to give her an extra d10.  I also played up Kaylee's ferocity to our opposition – the "you think I'm trouble?  You don't want to get HER riled!" sort of thing.  It was really fun, and Kaylee actually managed to lay out a couple of thugs this way, which made it even more fun.
Everyone did a fantastic job playing their characters and it was clear that everyone was a big fan of the show.  The person playing Jayne was in particularly fine form, and I don't think I will ever be able to go into someplace posh without thinking "Hey, free mints" again.
An important lesson that was reinforced for me in this game – be a fan of the players, not only when you are the GM but when you are a player.  It is easy to get so focused on the character that you are playing that you forget about the other characters (and that's OK to a certain extent – as a player your primary task is to play your character, not someone else's).  But if you can get past that, and look for opportunities for your character to help other characters look cool, man you will set yourself up for some incredible roleplaying!
SUNDAY LUNCH – limited selection
There was a schawarma and falafel truck in the parking lot for lunch, but by the time we got there it was out of almost everything (though not schawarma, which was what I wanted).  During the afternoon I overheard several other attendees talking about how the truck ran out of almost everything, and the wait was very long (40 minutes in some cases).  Not sure exactly what the problem was with this particular vendor but it was disappointing to hear after the good service of the previous days.
SUNDAY AFTERNOON – Cat!
Sophie had been planning on attending my Cat game in the afternoon, but while we were waiting for food Karen Twelves persuaded her to join a different game instead.  I was disappointed, but it turned out to be for the best because honestly I was running out of steam by the time I sat down to game.  Fortunately for me, my players were not.
I think the most enthusiastic bunch of players I had for the entire convention were the players for my Cat game.  They were full of cat stories and were totally in the cat mindset.  One player actually had a drawing she had made of the cat she wanted to play.  I had pregens, each with their own picture, but how could I say "no" to that?  My only regret now is that I didn't give her a Fate Point for it, but as I said I was running low on steam.
I had a scenario planned out, but with Sophie not attending I was able to borrow some set locations and villain stats from a previous game I had run, which was nice.  The cats had an epic adventure finding out who had stolen Mr. Stinky's smell, and thwarting a rat bane spirit who was attempting to destroy the neighborhood cats.  Players did awesome stuff and were extremely cattish, which added to the fun.  Another great game, and a wonderful conclusion to Big Bad Con.
SUNDAY EVENING – Aftermath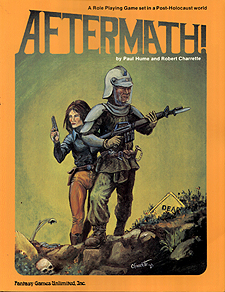 No, not the game.
We hit the road pretty quickly after the Cat game broke up.  Sophie and I were both tired and we were a bit worried that if we took the time to circle the convention saying goodbye to everyone we would be another hour getting out of the convention.  So if we missed you, or didn't say goodbye to you – to everyone who was in a game with me, as well as those of you from previous years, thank you for another great Big Bad Con.  It was memorable and fun and uplifting.  See you next year!